Scent to Calm & Relax Range™
Complete Bliss Pod Mini Starter Pack
NEED TO SCENT A BIGGER SPACE?
Complete Bliss Pod Starter Pack
£97.00
Free UK Delivery on Orders over £40 | Next Day Delivery on orders placed before 2pm | See International Shipping page for restrictions
Complete Bliss Pod Mini Starter Pack
How To Use
Simply place your favourite NEOM Essential Oil Blend inside the Pod Mini.
Using cold diffusion technology, essential oils are converted into micro fine vapour without using heat or water and released into the atmosphere to stimulate your senses and boost your wellbeing. Handle with care. Do not soak in water. We only recommend using NEOM Essential Oil Blends in the Wellbeing Pod Mini as these contain 100% natural ingredients, are safe to use with the Pod Mini and are within your warranty.
Features
No water tank - Nebulizing/atomising direct from the essential oil bottle.
Compact size & travel-friendly.
Battery operated (does not need to be plugged in to use).
USB cable for charging - fully portable once charged.
Once charged, your mini pod will hold power for up to 50 hours, depending on your intensity setting and frequency of use. Please note the unit will continue to drain when not in use.
No need for water makes safe for use in the car.
Easy to use and can quickly switch fragrances without having to empty/clean.
Intermittent scent - no big cloud of vapour 3 intensity settings.
Wipe clean.
Maximum coverage is 60 square metres.
Wellbeing Benefits
Creating calm and developing your own 'calming toolkit' is synonymous with living a peaceful life.
The NEOM Scent To Calm & Relax Range™ has been specially formulated with natural fragrance which not only smells wonderful but also has a calming effect on the mind and body.
Complete Bliss is a truly modern floral blend of Moroccan blush rose sharpened up with a dash of fresh lime and punchy black pepper, plus 14 other of the world's most precious oils, giving you a truly powerful blend to help ease tension and to help you feel calm and relaxed.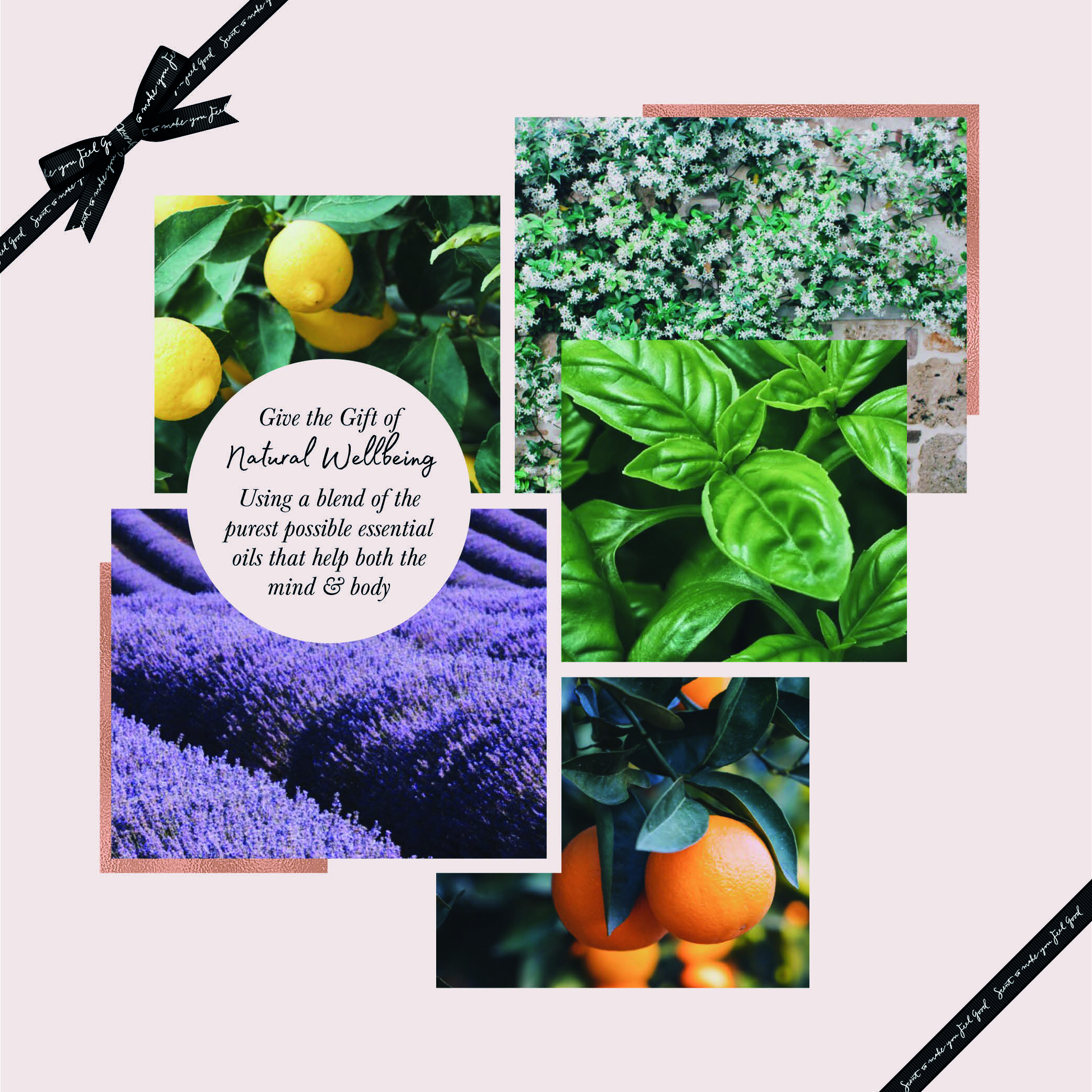 Proud To Be A B Corp
Our mission is to supercharge wellbeing - not only of our communities but of our planet too. We want to leave both in a better place, so becoming a certified B Corp business means everything to us.
Find out more about our journey here. 
Scent To Calm & Relax Complete Bliss Essential Oil Blend Ingredients: Vitis Vinifera Seed Oil, Citrus Aurantium Dulcis Peel Oil, Pelargonium Graveolens Oil, Myrocarpus Fastigiatus Oil, Citrus Aurantifolia Oil, Cymbopogon Nardus Oil, Juniperus Virginiana Wood Oil, Citrus Limon Peel Oil, Cinnamomum Camphora Linalooliferum Wood Oil, Rosa Centifolia Flower Extract, Eugenia Caryophyllus Leaf Oil, Mentha Arvensis Leaf Oil, Menthol, Pogostemon Cablin Leaf Oil, Bulnesia Sarmientoi Wood Oil, Rosa Damascena Flower Oil, Vanilla Planifolia Fruit Extract, Ferula Galbaniflua Resin Oil, Anthemis Nobilis Flower Oil, Vitis Vinifera Oil, Limonene, Geraniol, Linalool, Citral, Citronellol, Farnesol, Eugenol.
Handle with care, please read operating instructions before use & do not soak in water. NEOM Organics essential oil blends are 100% natural and are not diluted with any carrier oil.
They must be diluted before being used on the skin. To dilute them safely please follow the instructions (below / above). Not suitable for use on the body during pregnancy. Essential oils can cause sensitisation to the skin. Always use essential oils with care. Discontinue use if a rash occurs. If you have sensitive skin do a patch test before using over a larger area of skin. Do not dispose of unused essential oils down the drain. In concentrated form they can be toxic to aquatic organisms and may cause long term adverse effects in the aquatic environment. NEOM Organics London's essential oil blends should never be taken internally. Essential oil blends should be kept away from sensitive areas such as eyes. If the oils do come in to contact with the eyes, wash thoroughly with cold water and seek medical advice if needed. All essential oils should be kept out of the reach of children, if a child accidentally swallows an essential oil blend seek medical advice immediately. Avoid spillages. If you do spill, wipe up immediately. Best stored away from heat and light and should be used within six months of opening. If you are pregnant, suffer from a skin condition, epilepsy, asthma or are taking medication please seek medical advice before use. Not suitable for children. Flammable. Keep away from flames. Always consult a vet before using this product around your pet. We'd recommend keeping the door open when using around animals so they have the option to come and go as they please.