Wellbeing Pod Essential Oil Diffuser & Essential Oil Blends Collection
£130.00
£150.00
1
In Stock
How To Use
To choose the Essential Oil Blend that is right for you, simply inhale the fragrance from each of the bottles. You will discover which scent you feel more drawn to – this is your amazing mind and body signalling your underlying wellbeing need.
Fill the water tank with cold water. Do not exceed the maximum water level line.
Add up to 10 drops of your chosen Neom Wellbeing Essential Oil Blend.
With the touch of a button, it will instantly release a heatless, fine mist of scented vapour into the atmosphere to simulate your senses and boost your wellbeing.
If your wellbeing need changes, simply empty the pod, switch your scent and repeat.
Features:
The Pod is equipped with low energy LED lights and a night light making it perfect for both day and night.
It has a timer with settings for continuous, one, two and three hours.
It humidifies the air around you whilst transforming your home with natural scent.
The Pod is 92mm wide x 143mm high The Pod is mains operated not battery operated.
The Pod comes with multi use adaptors for the following countries (Europe, US, Taiwan, ME, Japan, HK, Singapore, China, UK)
Wellbeing Benefits
This collection contains our four iconic, 100% natural wellbeing blends. All expertly blended with the purest possible essential oils, to help you achieve better sleep, less stress, more energy or a mood lift.
The Scent To Sleep Essential Oil Blend, Tranquillity, contains 19 pure essential oils including English lavender, sweet basil & jasmine to help you relax and prepare for sleep.
The Scent To De-Stress Essential Oil Blend, Real Luxury, contains 24 pure essential oils including lavender, jasmine & Brazilian rosewood, to help you feel calm and banish stress.
The Scent To Boost Your Energy Essential Oil Blend, Feel Refreshed, contains 24 pure essential oils including Sicilian lemon & fresh basil, to help stimulate a tired mind.
The Scent To Make You Happy Essential Oil Blend, Happiness, contains 7 pure essential oils including neroli, mimosa & lemon, to help you balance and uplift your emotions.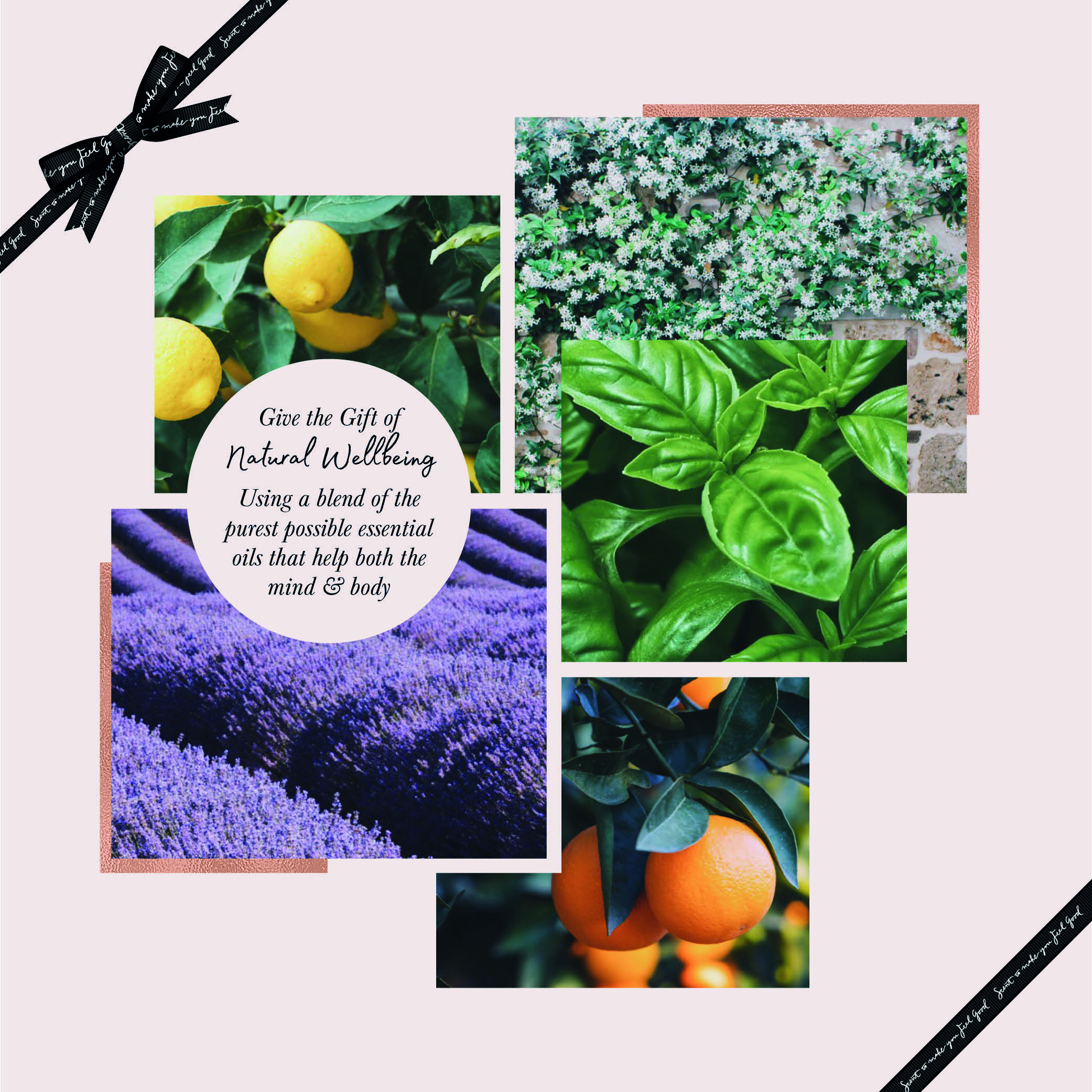 Give the Gift of Wellbeing
Make your gift extra special with our luxurious signature gift boxes and bags. Simply add your finishing touches on the basket page.
Select one of our beautiful gift boxes for £5 and we'll make sure your gift of wellbeing is received wrapped, protected and spritzed with love.
If you prefer to wrap it yourself, then why not select one of our beautiful bags and hand tie with our Scent to Make You Feel Good ribbon for only £1.
For an extra special touch, add a personalised message to your gift bag or box for free. Simply send us your message and we'll print it on a beautiful gift card before placing it in your order.